SMSF
key services
annual compliance and reporting
pension and benefit design
SMSF estate planning
compliance advice
Self-Managed Superannuation Funds (SMSFs) can be an ideal choice for business owners and individuals looking to control their own superannuation.
McKinley Plowman has a range of tailored SMSF products, and our team of dedicated professionals can assist in the establishment of a fund that will allow you to make strategic decisions and decide where and how to invest your money. With a McKinley Plowman SMSF you get flexibility and choice, along with the secure feeling that you have the backing of our professional team, from establishment, preparation and lodgement of financial statements and tax obligations through to effective financing, tax planning and wealth building strategies.
McKinley Plowman SMSF: Award-Winning Service
Our dedication to providing industry-leading SMSF services has seen us take home the award for the Best Self-Managed Super Fund Firm (<$30m revenue) in the nation-wide 2023 Client Choice Awards. So, if you engage McKinley Plowman to assist you with your SMSF needs, you can be sure that you're dealing with the best in the country.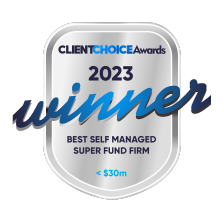 Strategic Advice
SMSF strategy has become increasingly important as laws relating to SMSFs have become very complex. The need for advice is now more important than ever.
Whether it is doing property development, contributing to your SMSF to save tax on the sale of your business, setting up a pension or dealing with the death of a member, McKinley Plowman can assist with each stage of your SMSF life.
SMSF Compliance
With an unparalleled knowledge of superannuation legislation, McKinley's SMSF team is well equipped to assist trustees, accountants and financial planners with SMSF compliance.
Continue Reading
General advice warning:  The advice provided is general advice only as, in preparing it we did not take into account your investment objectives, financial situation or particular needs. Before making an investment decision on the basis of this advice, you should consider how appropriate the advice is to your particular investment needs, and objectives. You should also consider the relevant Product Disclosure Statement before making any decision relating to a financial product.
Thinking about becoming a client?
Book your free, no obligation consultation right now via our online booking system or get in touch to find out more
Already a client and want to get in touch?
Send us an email via our enquiry form or give us a call today
New Client Options
Book a FREE no obligation consultation
Pick a date and time which suits you for a meeting at our Joondalup or Perth Office via our online booking system. This free consultation is available to new clients.
Get in touch with a MP+ representative
Fill in our online enquiry form and one of our friendly staff members will be in touch.
testimonials
Our dedication to customer service is at the top of our list – read some of the fantastic feedback our clients have passed onto us.
testimonials