UK Pension Q & A — Tuesday, 12 September 2017 6:30pm
Date – 12 September 2017, Tuesday
Time – 6:30 pm
Venue – British Bistro, Currambine Central,
1C/1244 Marmion Ave., Currambine WA 6028
Due to insistent demand, we will be hosting another informative evening of an informal Q & A session on UK Pensions, Australian Super QROPS Rules, and UK State Pension.
A Loan Specialist from Mckinley's MPM Finance will also join the discussion for any questions and reviews of home, investment, and business loans.
This event is absolutely FREE, however, slots are limited — make sure to secure your place! Click on the link below to register.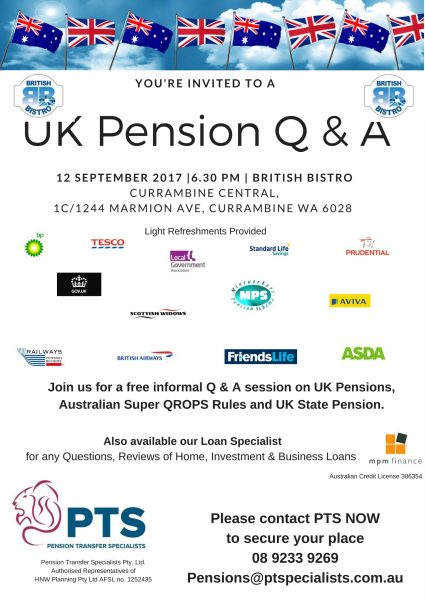 Thinking about becoming a client?
Book your free, no obligation consultation right now via our online booking system or get in touch to find out more
Already a client and want to get in touch?
Send us an email via our enquiry form or give us a call today