Loan Health Checks – Helping you Find the Best Deal
A competitive lending environment, and a universal desire to get the best deal has opened the door for homeowners, business owners and investors to a vast array of loan options to improve their financial health. Whether you're looking to lower your repayments, pay off your mortgage sooner, or just see what else is out there and ensure you're not being ripped off, a Loan Health Check may be just what you need. Let's take a look at the current lending trends, why a health check is important, and what a more competitive interest rate could do for you.
Current Trend
Put simply, interest rates are generally higher on older loans. For instance, if you took out a home loan in 2015, it's likely that you wouldn't have been able to secure an interest rate lower that what you'd get if you were to take out a loan for the same amount today – such is the competitive lending environment we're in. This means that for the vast majority of people, loans more than a few years old are taking more money out of their pockets than is absolutely necessary, and switching loans may be worthwhile. Per the graph below, if you originated your home loan in 2015, you'll likely be paying closer to the 3.9% mark, while loans originated in 2019 sit around to 3.5%. While this seems an insignificant figure, that can add up to a difference of up to $20,000 in repayments on a $500,000 loan over ten years. As such, it stands to reason that if you can get a better deal elsewhere, even for a small reduction in your interest rate, it may be worth doing. Keep in mind – the banks won't simply pass on rate discounts to existing customers, unless you or your broker makes the request. So basically, don't wait for it to be handed to you!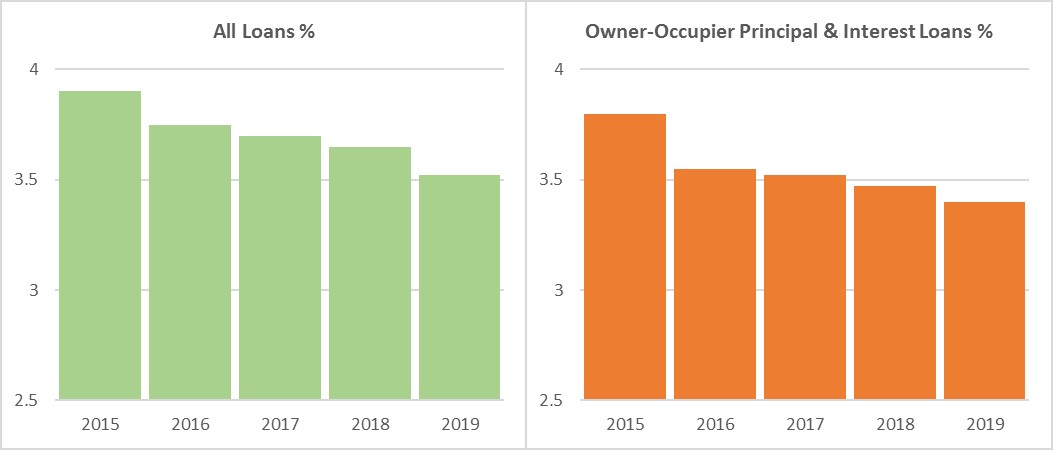 Variable Housing Rates 2015-2019 by origination year
What is a Loan Health Check?
A loan health check is a free service offered by McKinley Plowman, where we explore your current lending facilities, including interest rates, repayments and security position, to work out where you may be able to improve your borrowing situation. From there, we can compare your current loans with what's available in the market, offer guidance around what may work best for your current position and future goals, and then look at making the switch. Of course, if your current loan proves to be the best match for you all things considered, we'll tell you!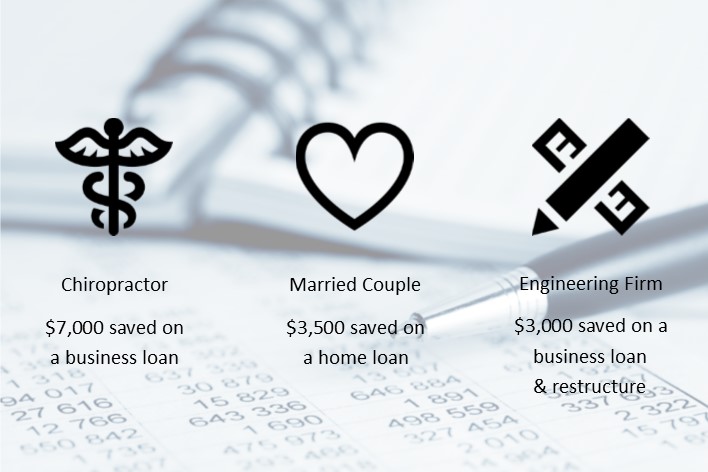 MP+ Loan Health Check Success Stories
Reduce your repayments
As detailed above, just a small reduction in your interest rate can leave you better off at the end of your loan period, sometimes to the tune of thousands of dollars. In the competitive lending environment, banks and other lenders are offering attractive introductory and ongoing interest rates in order to entice those with existing loans to consider switching over. The most attractive upshot of doing so is, of course, lowering your repayments.
Check out the MP+ Mortgage Switching calculator allows you to input your current loan details and new loan details, after which it will outline the costs or savings associated with the new interest rate and repayment frequencies (as well as associated fees).
Take time off your loan
Another benefit of scoring yourself a lower interest rate is the chance it gives you to pay off your loan earlier with extra repayments. If your total interest payable reduces, but you maintain your original weekly, fortnightly or monthly repayments, you'll be chipping away at your debt faster that you were before – for the same amount of money! You could even take this a step further and increase your repayment amounts to further expedite the whole process. Our extra repayment calculator is a useful tool to help you break down and visualise the effect this may have on your loan; and for a broader look at how long you have left to repay your loan, check out our "how long to repay" calculator.
What Now?
It is critical to review your loan every year or so. The Finance team at MP+ can help you keep your finances front-of-mind and ensure your rates are the best they can be
If you want to see how your loans stack up against what's out there, or you want to knock time and money off your repayments, get in touch with us. We'll look after all of the legwork and see where your home or business loans can be improved, so you can reap the rewards down the track. For more information, visit our website at https://www.mckinleyplowman.com.au/services/finance/ or give us a call on 08 9301 2200.
Thinking about becoming a client?
Book your free, no obligation consultation right now via our online booking system or get in touch to find out more
Already a client and want to get in touch?
Send us an email via our enquiry form or give us a call today