WA Property Market Update – June 2022
The end of the 2021-22 Financial Year is nearly here, and once again there has been a lot of news and updates circulating around rising interest rates and its impact on property. Since our last update, the Reserve Bank raised the cash rate a further 0.5%, bringing it up to 0.85%, and many pundits are expecting further rises as the year goes on. How this impacts the market in the long term isn't yet totally clear, however short-term concerns about interest rate rises may not be as bad as some commentators predict. Welcome to the MP+ WA Property Market Update for June 2022.
WA Residential Property Market Update – June 2022
Overall, the aggressive growth we've seen in the market does appear to be softening somewhat, right at the time where interest rates are bringing about some concerns for households over mortgage repayments. During this time, lenders and brokers anticipate significant refinancing activity as customers look for better deals where they can. The majority of home loans have rate rises factored into the approval process in the form of buffers. Furthermore, there was a reported increase in average household savings around 2020, so many borrowers should still have the ability to manage increased repayment amounts in the short term.
Below is a representation of the national property market (the "Property Clock") for houses, courtesy of Performance Property Group. As you can see, Perth is still within the 'Buy Value' sector of the graph, however its denotation in dark blue indicates greater than 7% per annum growth, so at this rate it my move further along the clock before too long. However, rising interest rates could slow this growth. Some smaller regional areas of WA that feature on the clock aren't too far behind in growth either.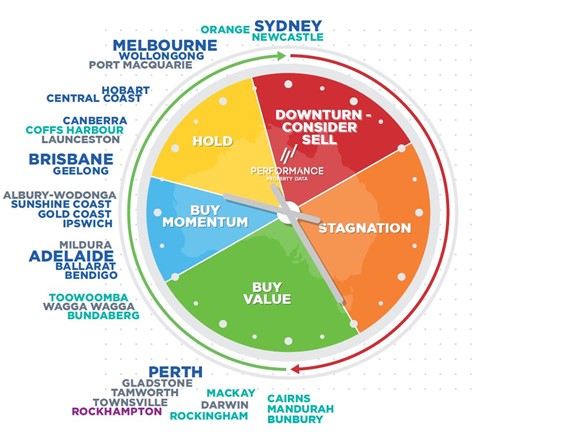 Established modern homes in Perth's outer suburbs have performed well of late. These include Northern coastal suburbs like Jindalee and Alkimos, East in Dayton and Brabham, and South in Hammond Park and Treeby. Owner-occupiers are the dominant demographic in these areas. Suburbs close to top-performing public schools (e.g. Willagee and Willetton) have seen strong increases in values, both in family homes and strata units. Demand and transaction numbers are also doing well in the apartment market, even outside of the Perth CBD. Areas where these properties have performed well include North Fremantle, South Perth, and Scarborough.
WA Commercial (Office) Property Market Update – June 2022
Riding the tail-end of the Omicron wave, the WA office market has seen some positive changes in recent months. The CBD's vacancy rate dropped from 16.8% in to 15% in the six months to January 2022; while West Perth saw a drop from 19.1% to 18% over that same period. This is indicative of some businesses looking to upgrade premises, emerging companies requiring office space, and employee desire to return (at least part-time) to the more collaborative and social office-based working environment. Hybrid working environments are impacting the refurbishment of older office spaces, with developers and businesses looking beyond the traditional layout of an office, and towards a more socially minded space. Longer construction times and higher costs for new builds should result in greater demand for this type of premises.
What's Next?
As far as the markets are concerned, it looks like interest rate rises have started at a time where the market was cooling slightly. Demand for properties in the WA market should remain strong, with total available stock and median selling days continuing to stay low. The more pressing matter for homeowners will be how rate increases influence their mortgage repayments. If you'd like to explore your options for refinancing your loans, contact the Finance team at McKinley Plowman on 08 9301 2200 or via our website.
Data from HTW Month in Review June 2022
Thinking about becoming a client?
Book your free, no obligation consultation right now via our online booking system or get in touch to find out more
Already a client and want to get in touch?
Send us an email via our enquiry form or give us a call today