WA Property Market Update August 2022
As predicted, the Reserve Bank Australia (RBA) has further increased the cash rate to 1.85% in August, with a view to keeping rising inflation in check. According to the RBA, inflation is set to peak later this year, before returning to its normal 2-3% pa range. But while households feel the pinch of the rising cost of living, the prevailing economic conditions are also impacting the property market. After 2 or so years of frantic market activity, sales activity is slowing down in the residential sector, while the knock-on effect of reduced household spending may see the retail sector's recent good form return to more normal levels soon. Read all about it in the WA Property Market Update for August 2022.
WA Residential Property Market Update August 2022
The residential property market in WA during the pandemic saw significant demand, minimal stock, and consistent upwards pressure on prices and rent – but now we find ourselves in August 2022 and things are cooling off slightly. Rising inflation has forced the RBA's hand in raising interest rates, with more expected through the rest of the year. This has reduced the borrowing capacity of many prospective buyers and sales activity will likely drop as a result. According to REIWA, the number of properties listed for sale has reduced by 2.5% over the last four weeks.
In terms of the National Property Clock pictured below, courtesy of Performance Property Group, Perth's residential market is still firmly in the "Buy Value" section, as are Rockingham, Mandurah & Bunbury.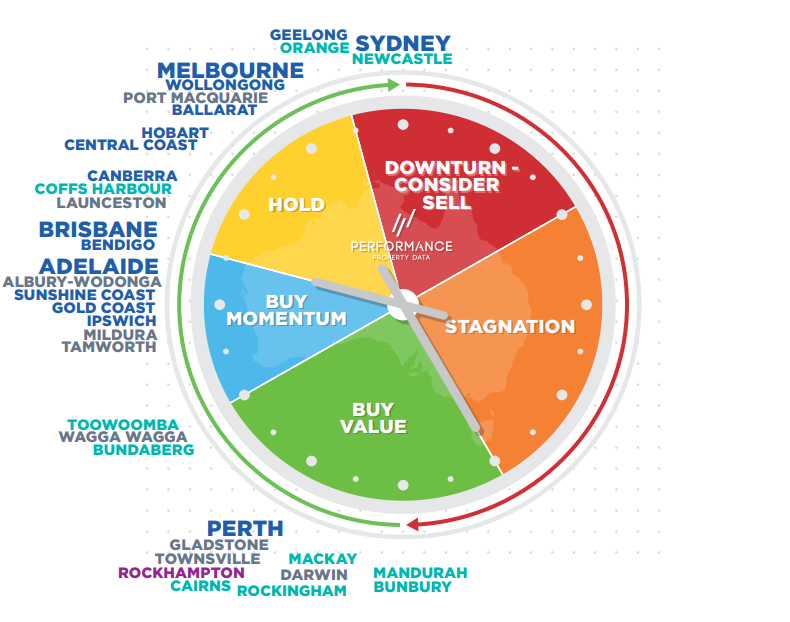 While the number of properties listed for sale remains steady, there are still opportunities for buyers in the WA property market, but as we come to the end of August the outlook for the rest of 2022 may include a further reduction in activity as interest rates climb, borrowing power further decreases, and rising household costs put new home purchases firmly on the backburner. Watch this space!
WA Retail Property Market Update August 2022
Off the back of government stimulus measures, a strong property market, and a resilient resources sector, many West Aussies were basking in a cash surplus. However, inflation pressures have raised the cost of many essential household goods and prompted increased interest rates, so discretionary household spending has reduced accordingly. Retailers that had recently been over-performing when compared to previous periods may now feel the strain. As a result, the outlook for the WA retail property market is uncertain, through August 2022 and beyond.
Investment activity in this sector, particularly from the Eastern States, appears to have remained stable, even following interest rate rises. Long remaining lease terms, prospects for growth and depreciation benefits are high on the list of demands for investors. There is increased activity in this sector for owner-occupiers, as many are finding it more cost-effective to acquire their own premises rather than make rental payments.
Looking Ahead
While many consider temporarily shelving their homebuying activities until some stability returns to the economy, those with existing loans can still take advantage of present circumstances by reviewing their loans. Those with home or business loans on variable rates will have felt the sting of rising interest rates first-hand over these past few months, so there's no better time to explore your options and potentially refinance to a more competitive loan facility. The Finance team at McKinley Plowman can get you on the right track with a loan review, and present you with options. Don't hesitate to reach out via our website or on 08 9301 2200.
Data From: HTW Month in Review August 2022; Performance Property Group Research Update August 2022; REIWA Perth Metro Snapshot
Thinking about becoming a client?
Book your free, no obligation consultation right now via our online booking system or get in touch to find out more
Already a client and want to get in touch?
Send us an email via our enquiry form or give us a call today