Last Chance to Increase your UK State Pension at Lower Class 2 Rates
5 April 2019 – seems like a fairly unimportant date to most, but if you've eligible to purchase UK National Insurance Credits at the Class 2 rate, it's D-Day. On the 5th (which will come around sooner than you may think), Class 2 rates will be abolished by the UK government and you'll be stuck paying credits at the higher Class 3 rate. If you think you may be eligible, read on…
UK State Pension Refresher
As you may be aware, the UK Government currently provides an income in retirement for those that have reached the UK State Pension Age, as determined by your gender and date of birth. It is continually under review and may change in the future. The current maximum amount of the Basic State pension is £164.35 per week. State Pensions are funded by the payment or credit of a National Insurance Contribution, and each year of National Insurance Contributions equates to a pension entitlement of £4.56 per week.
In April 2016 the Government reviewed the UK State Pension and introduced a minimum number of years required to claim the UK State Pension.  The minimum number of National Insurance credits needed at State Pension age for payment of a UK State pension is 10 qualifying years.
The UK currently allow the purchase of National Insurance contributions.  At present the maximum number of years you are able to purchase is 12 additional tax years.  12 years of the UK State Pension is worth approximately £56.35 per week.  This means you can maintain and increase your entitlement to a UK State Pension even if you move abroad.
Currently you are able to purchase National Insurance Credits at either Class 2 or Class 3 rates.  The rate you receive is determined by your UK employment status and Australian employment status.  Class 2 costs approximately £145 per National Insurance tax year and Class 3 costs approximately £700 per National Insurance tax year. This is why it's so important to check now whether or not you're eligible for Class 2 rates, and take advantage while you still can.
Scenarios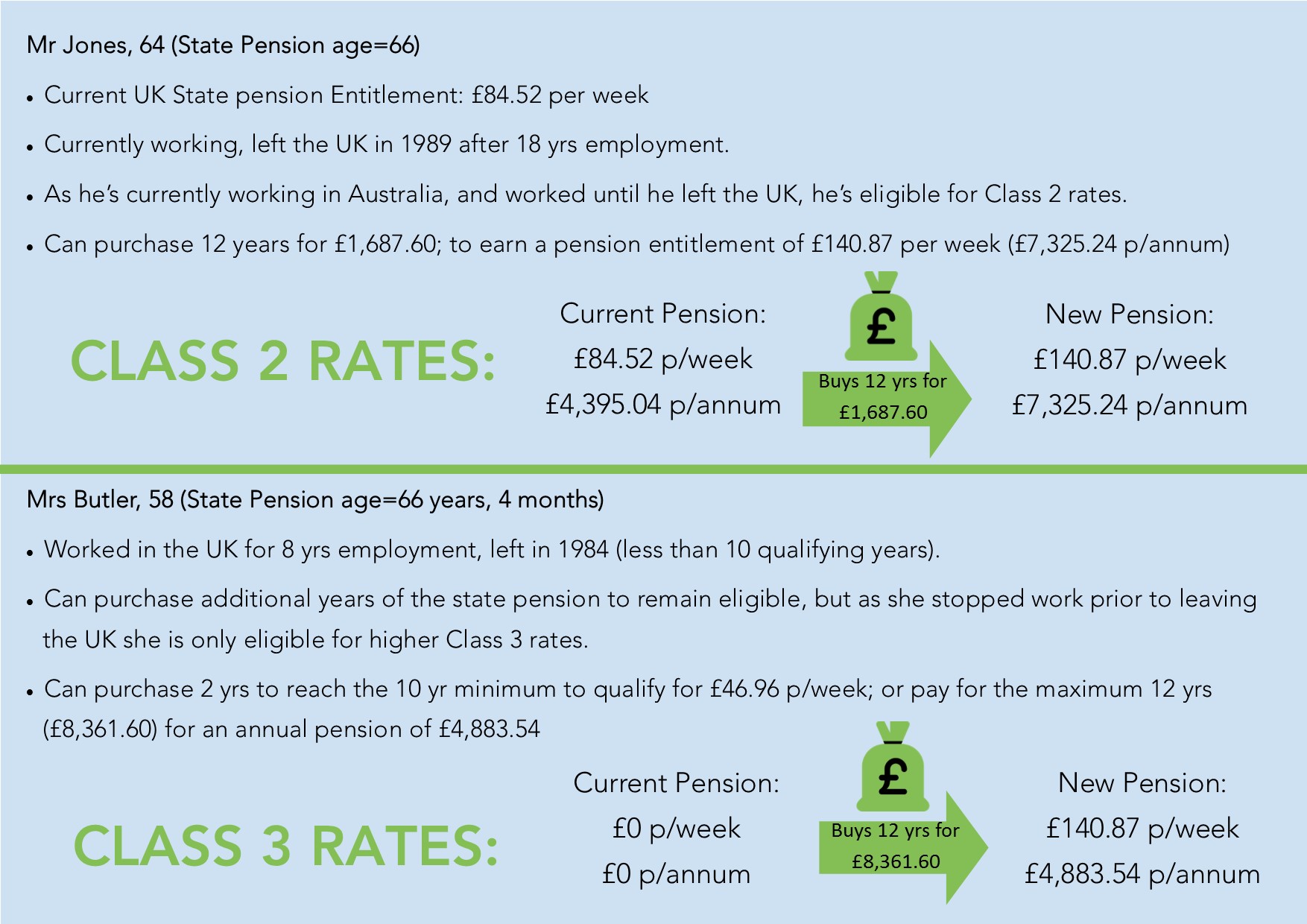 As you can see from the examples, getting Class 2 rates where possible makes for significant savings. Either way, however, purchasing credits at any rate can be very important in funding your retirement lifestyle. For more information on your eligibility or any other Pension-related enquiries, contact Pension Transfer Specialists today on 9233 9269 or visit http://www.ptspecialists.com.au/.
Thinking about becoming a client?
Book your free, no obligation consultation right now via our online booking system or get in touch to find out more
Already a client and want to get in touch?
Send us an email via our enquiry form or give us a call today